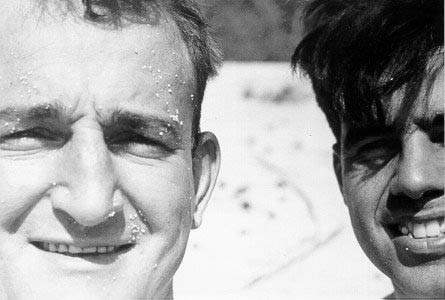 February 8, 1943 - George Grider and Roger Paine at Marble Beach, Hawaii enjoying some spear fishing R&R. In Grider's book "War Fish", he wrote of this escapade which ended prematurely after a large shark arrived on the scene. Prior to departure, Grider would leave Wahoo's wardroom to become Exec of Pollack and Paine would assume his position as third officer for the next two patrols.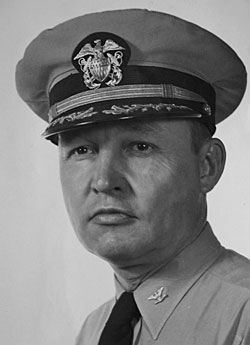 February 23, 1943 - Wahoo departed Pearl Harbor with Commander Duncan C. MacMillan aboard for his PCO patrol. Not unlike his former CO Kennedy, O'Kane quickly got into a personality conflict with the older MacMillan. Likewise, the methodical MacMillan developed reservations about what he observed to be "a lack of planning, poor coordination and an absence of discipline in the conning tower during attacks" -- despite the patrol's outstanding success. Morton and O'Kane angrily parted ways with MacMillan upon their return to Midway. MacMillan went on to success as CO of Thresher. Image courtesy Dave Bouslog.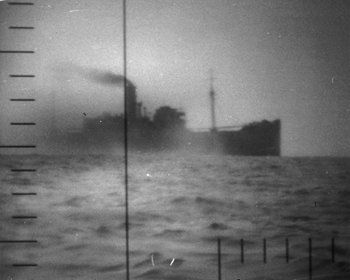 March 21, 1943 (0700) - Action in the Yellow Sea. After sinking two freighters on the 19th, Wahoo scores again. Hozan Maru, a Seiwa Maru class freighter, has just been hit by a single torpedo from a spread of three.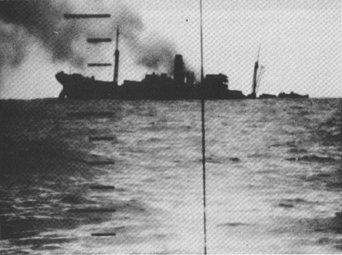 Hozan Maru heads under. Elapsed time of sinking: four minutes. Thirty-three survivors were observed in the 40 degree (F.) water.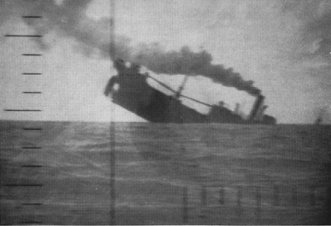 March 21, 1943 (0958) - The freighter Nitu Maru heads down by the bow, her stack still issuing smoke. She received two hits, under the bridge and mainmast, from a spread of three torpedoes.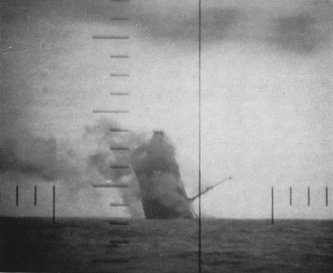 With her bow resting on the shallow bottom, Nitu Maru settles under. Total elapsed time of sinking is three minutes, ten seconds. Wahoo closed the wreckage to take a prisoner from the four survivors spotted. The Japanese ignored them. Morton then picked through the wreckage for intelligence material. Two house flags from the maru's shipping line were recovered as souvenirs.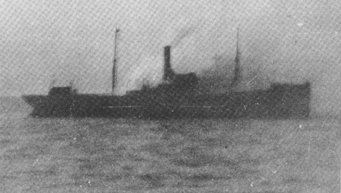 March 25, 1943 (0444) - After two torpedoes explode prematurely, Morton orders "Battle surface" and attacks the freighter Sinsei Maru with 4" and 20mm guns. Target sinks after receiving 90 4" rounds.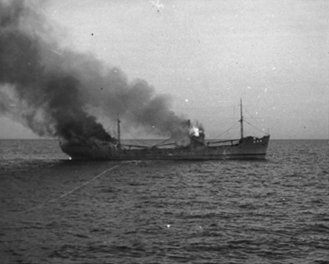 March 25, 1943 (0535) - The Satsuki Maru is discovered and set ablaze by 4" and 20mm shell fire. She sinks after taking 80 rounds. Commenting on the gun action in his patrol report, Morton wrote, "Anyone who has not witnessed a submarine conduct a battle surface with three 20mm and four inch gun in the morning twilight with a calm sea and in crisp clear weather, just "ain't lived." It was truly spectacular".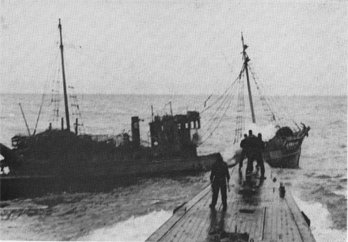 March 25, 1943 (1040) - A 100 ton trawler with a suspiciously large radio antenna is attacked with 4" and 20mm guns. "Wahoo's Commandos" are called on deck but seas are now too high to permit boarding. Lead by Ensign Misch and Chief Lane, they hurl molotov cocktails from the bow.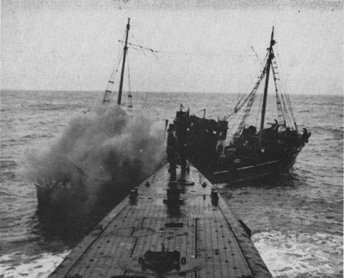 Smoke billows from the trawler as a molotov cocktail explodes. Unfortunately the vessel's wooden decks were so thoroughly soaked with water that they would not burn sufficiently to sink her.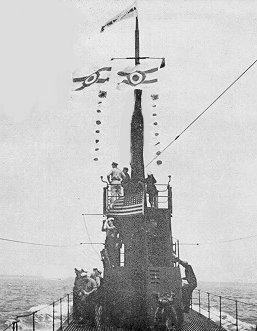 April 6, 1943 - With Nitu Maru house flags, sixteen victory flags and "battle cry" pennant unfurled, Wahoo returns to Midway Island having completed the most successful U.S. submarine patrol of the war to date. Wahoo and Morton would ultimately be credited with nine sinkings.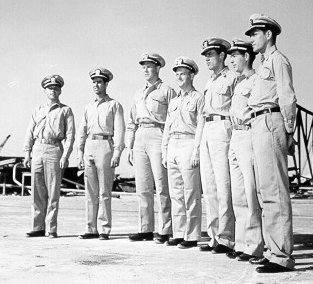 April 15, 1943 - Although quite a come-down compared to Pearl Harbor's recreational amenities, Wahoo was still the center of attention at Midway. Here her wardroom lines up for an official Navy photo opportunity. From the left: Ensign John Campbell, Lt. Roger Paine, Ensign George Misch, Lt. Richard O'Kane, Lt. Chandler Jackson, Lt(jg) John Griggs, Lt. Richie Henderson. Notably absent is Captain Morton who was flown to Pearl to report directly to ComSubPac.