Following construction, launch and fitting out, USS Wahoo (SS-238) conducts sea trials from Mare Island Naval Shipyard. Situated off San Francisco Bay, testing and training was conducted in the Pacific off the California coast. Her 3" stern mounted deck gun and full, as built, fairwater plating can clearly be seen. Modifications would continue to be made until shortly before her departure for Pearl Harbor (her SJ radar has yet to be installed).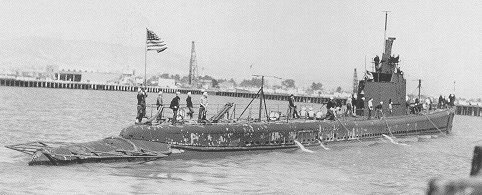 August 8, 1942 - Wahoo docking at Alameda N.A.S., California during her shake-down period. Under the command of Captain Kennedy, she would depart for Pearl Harbor and begin her first war patrol within days.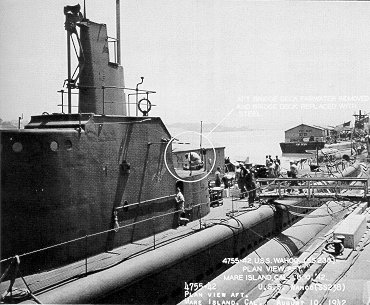 August 10, 1942 - Back at Mare Island, workers apply finishing touches. The white circle highlights the cutting down of the fairwater and installation of a steel cable safety rail.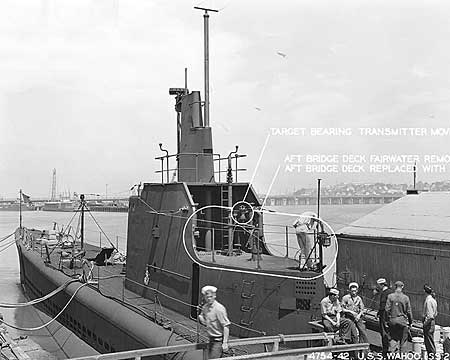 August 10, 1942 - Another detail shot highlighting last minute changes. The Target Bearing Transmitter has been moved forward, just aft of the RDF loop mast. The wooden slats of the aft bridge deck have been replaced with steel plate.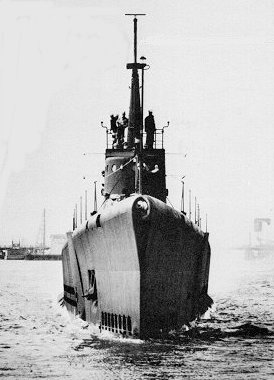 August 10, 1942 - U.S.S. Wahoo, bow on. Her starboard side anchor is clearly visible. Early Mare Island boats were built with two anchor wells, port and starboard, in accordance with Portsmouth building plans. However, this redundancy was quickly eliminated by removing the port anchor and plating over the anchor well.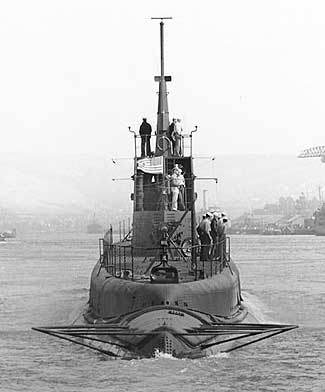 August 10, 1942 - A view from astern. Note the propeller guards which will be removed prior to departure for Pearl.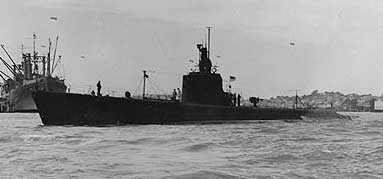 August 10, 1942 - Wahoo off Mare Island.